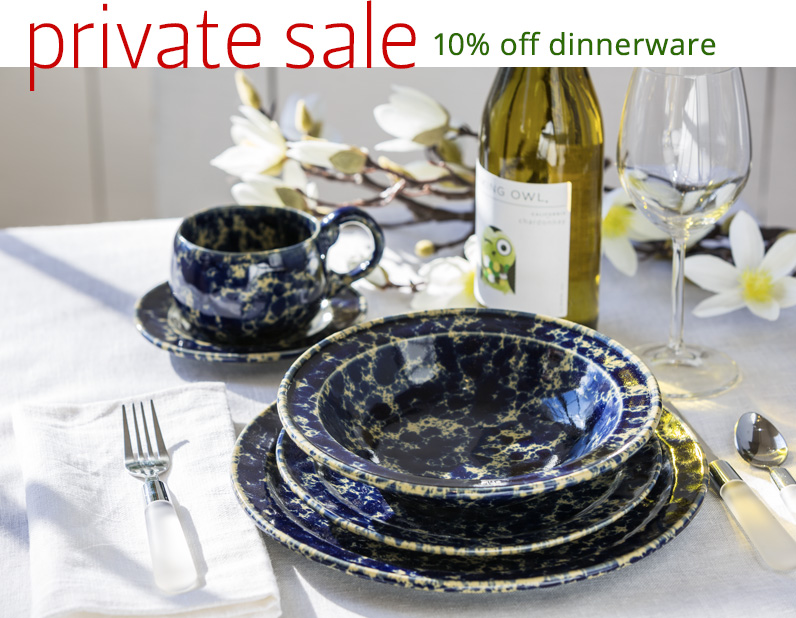 Our Private Dinnerware Sale is happening now!

Build your collection, get your holiday table ready, do your holiday shopping - and save!
Only for our email subscribers - and only for a limited time.
Not signed up? Simply submit your email where prompted below.
Here's the deal: Until midnight November 23rd, buy 12 qualifying* dinnerware plates and bowls, in whatever combination of shapes, glazes, quantities you like to get 10% off.  Then, once you reach 12, buy as many mugs and cups as you like and get 10% off those too.  Bonanza!

Here's how it works:  Use your subscribed email address during checkout, and your 10% discount will be reflected as you finalize your order. Not signed up? Simply submit your email below to sign up now and start shopping.
*Qualifying Dinnerware Plates and Bowls: Classic plates, Dinner, Lunch, Dessert; NewLine plates, Large, Medium, Small; bowls, Medium Basic, Small Basic, Rimmed Soup/Pasta. Qualifying Mugs and Cups:(once 12 qualifying plates and bowls have been selected) Trigger Mug, Tall Trigger Mug, Original Mug, Tankard Mug, American Classic Mug, NewLine Large Cup, NewLine Small Cup, Tumbler.

> Shop Plates

> Shop Bowls

> Shop Mugs

Shipping and tax calculated on discounted order.
Any questions? Give us a call at 800-205-8033, we are glad to help!