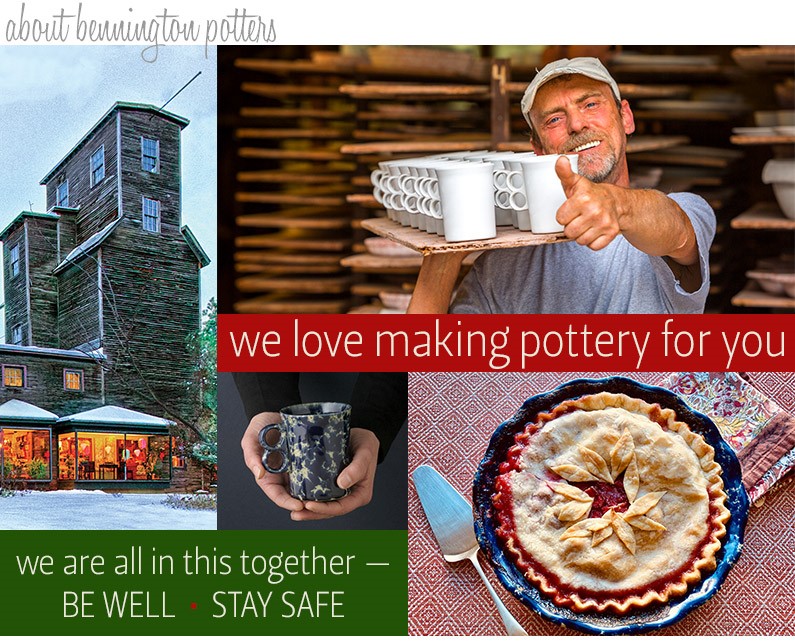 Stores and Factory closed for now.
Our website is open, we are shipping, and we are here to answer your call or email.
Bennington Potters Yard
324 County Street
Bennington, Vermont
800-205-8033
Bennington Potters North
127 College Street
Burlington, Vermont
802-863-2221
About Bennington Potters
Bennington Potters began with a mission. David Gil, founder and owner operator from 1948 through 2002, was determined to design and bring to market beautiful, well-made ceramics in a production context. His artistry, his technical creativity, his commitment and his tenacity were the driving forces behind his vision and built the remarkable company that survives and thrives to this day. Inspired both by David, and his legacy -- a sacred cargo now in their hands -- those who worked with him continue along this path.
Bennington Potters carries on the mission to make beautiful pieces offered at the lowest possible prices for everyday pleasure. Our artisan-crafted stoneware has always been made in America, right here in the Potters Yard in Bennington, VT. Our small Vermont company thrives by keeping the old, taking on the new, responding to changing times and practical circumstances, learning by doing.
SEEING IT MADE: TOURING THE POTTERY
Bennington Potters invites you to see this work in action. Our 'hands-on' approach to the pottery-making process is unique in today's manufacturing environment -- as is our tour, where the potters themselves describe each step of many processes.
You will see forming, finishing, and glazing machines in production. Techniques such as jiggering, jollying, chumming, burlapping will be demonstrated. You will see that each piece goes through the hands of six to eight potters.
Our pottery group numbers eight to ten and they divide work weeks either Monday through Friday or Tuesday through Saturday. The fullest production happens Tuesdays through Fridays and Mondays and Saturdays have plenty of potter action. The potters are off on Sunday; however, tours still allow visitors to come away with a clear understanding of how the pottery is made.
FOR GROUP TOURS
We welcome group tours. To arrange one, please contact Tours@benningtonpotters.com.
HOME STYLE STORES
All of the pottery -- 65 individual pieces, 14 different glazes -- is on display and for sale in two locations in Vermont: Bennington Potters Yard in Bennington and Bennington Potters North in Burlington.
Bennington Potters Yard, the four-acre property includes two historic buildings in addition to the pottery works. The 1922 Grist Mill, built on the site, is joined to a 19th century one room school house moved to the site in the early sixties. With 5,400 square feet of retail space, this unusual location offers many sophisticated interior design arrangements featuring furniture, rugs, wall art and all kinds of decorative accessories. Many and changing are the stylish table settings that showcase our dinnerware lines as well as glassware, flatware, linens, and other ceramics. Also featured are Bennington Potters bakeware and mugs, bowls, pitchers, et cetera. Even frequent visitors are always seeing something new. A great place for gift givers!
Bennington Potters North is located in downtown Burlington between the famous Church Street Marketplace and the glorious Lake Champlain. This renovated brick factory built in 1883 features three floors full of Bennington pottery and everything to go with it -- table linens, glassware, rugs, wall art, decorative accessories, stationery, gift ideas, and more. The two locations -- both destination home style stores -- share the same vision and mission in two very different ways.
Each is well worth a visit! These retrofits of old buildings, both projects of David Gil, are early examples of townscape renewal, yet another aspect of David's vision and mission -- the Bennington mill in 1958 and the Burlington factory in 1973.
(The 1948 beginning of Bennington Potters happened in an old barn.) The buildings themselves are reason enough to visit.
Bennington Potters is always delighted to hear from you, but nothing pleases Bennington's potters more than a visit from you.

Our founder, David Gil